Today, I'm taking part in an Earth Day Blog Hop with the Bento Bloggers & Friends. I hope that you will hop on through and check out the other fun Earth Day lunches around the blogosphere!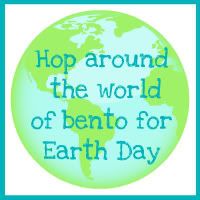 The Girl's snack is applesauce (no picture).
Her Earth Day lunch is a some grapes (with a grape tulip on top), a cheese sandwich sun on flat bread, over some sugar snap pea "grass" and a bed of sliced apples, and a couple cutie clementines.
I've got the whole world in my hand.
I had a friend (who is a far better artist than I am) draw the Earth onto one of the clementines.
Hello, Europe and Africa
She was very detailed.
Australia, et. al.
Earth Day is April 22nd.
Now, hop on over and see what
Michelle at Creative Food
has to offer up for this Earth Day Blog Hop.