I have a new toy! It's the Cute-Z-Cute animal friends cutter. It is TOTALLY adorable and so very easy. I like that combination.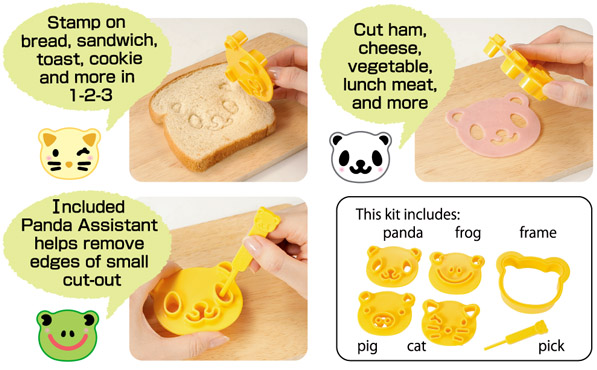 Image courtesy AllThingsForSale
It is available on
Amazon
and
AllThingsForSale
.
So, I played with it for lunches today. His snack is a banana (not pictured - 28g).
Cookies: 10g, apple slices: 8g, carrots & ranch: 5g, yogurt jelly: 6g, granola bar: 15g, sandwich: 27g
And his lunch is a
CuteZCute
cut Panda sandwich with jelly and some chocolate sprinkles, some crinkle cut carrot coins in an
Easylunchbox Mini Dipper,
with some ranch dressing in a little
sauce container
, a mango yogurt jelly, a homemade granola bar, apple slices with
panda picks
, and some alphabet cookies, all in an
Easylunchbox container
.